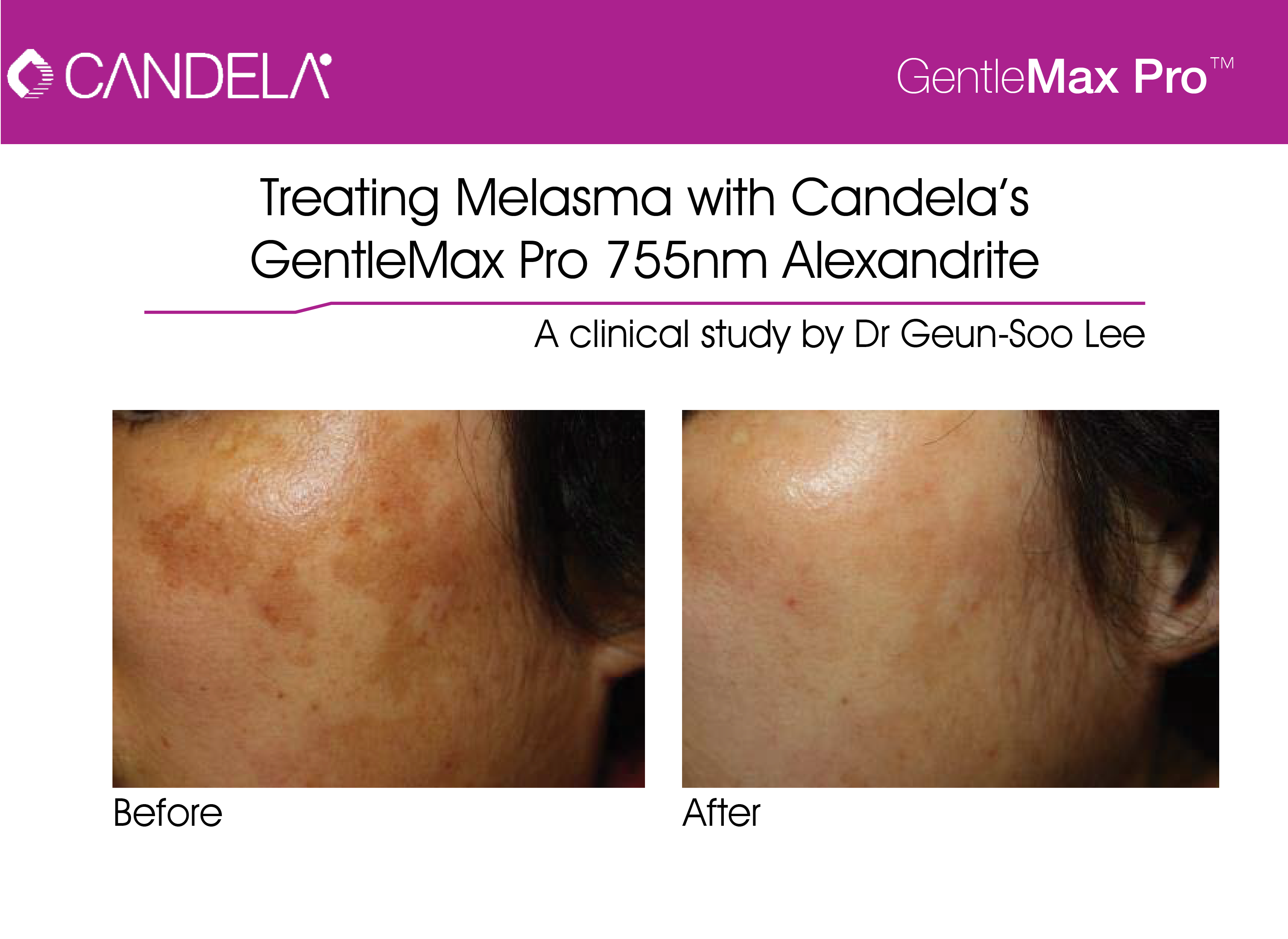 GentleMax Pro is a dual wavelength, long pulse laser platform providing 755 nm Alexandrite and 1064 nm Nd:YAG laser energies at pulse durations ranging from 0.25 to 100 milliseconds. The device is used to treat various pigmentary disorders, provide skin rejuvenation treatments, treat vascular lesions and to provide effective, lasting hair removal treatments.

Pigmentary disorders are very effectively treated with the 755nm Alexandrite laser. With respect to pulse duration, millisecond pulses are used for the treatment of photo damage, freckles, seborrheic keratosis and lentigines while the treatment of Melasma or post-inflammatory hyperpigmentation (PIH) requires shorter, microsecond level pulses as these lesions are very sensitive to thermal damage.

When treating melasma, one should not expect to see an immediate response, but rather a gradual improvement. In cases of immediate and fast response, the melasma will usually worsen within a few weeks post treatment. The ideal treatment course would involve frequent treatments providing slow, gradual results. Thus when treating melasma or PIH with the GentleLase Pro or GentleMax Pro's 755nm Alexandrite handpiece, the treatment should include 2~3 passes using 8~10mm spot size with 1-3 Hz repetition, 0.25-0.35m/sec pulse duration and relatively low fluence of 6-7 J/cm2. Pulse stacking is usually not recommended. Multiple sessions are recommended once or twice per month.

Discussion
Disruption of the basal membrane, related to photo-damage is common among melasma patients. Thus applying high fluences may trigger PIH by melanocyte destruction on upper dermis and cause long lasting erythema due to neovascularization followed by superficial vascular injury5 and extreme temperature increase in the dermis layer needs to be avoided. To prevent adverse events, it is very important that targeting melanin pigment is done at microsecond level with minimal thermal damage. Post-treatment hyperpigmentation or hypopigmentation is a main concern following pigmented lesion treatment, especially in Asian patients. GentleMax presents a lower risk of both hyper and hypo-pigmentation with low fluence settings. Melanin and hemoglobin absorption curve are relatively close in certain wavelength ranges. So, while treating pigmented lesion vascular damage should be avoided. Because DCD or air cooling can't prevent iatrogenic purpura, it is important to keep the safe treatment parameter guidelines in mind.

Conclusion
The 755 nm laser energy delivered by GentleLase Pro and GentleMax Pro are convenient and effective for the treatment of melasma and other pigmentary disorders. Versatility is an advantage of these systems, which provide 755nm energy in microsecond pulse widths for laser toning or melasma treatments and millisecond pulse widths for freckles, lentigines, or seborrheic keratosis and at the millisecond level treatment mode, we can get more effective results than IPL. In conclusion, GentleMax laser is very useful armamentarium for the treatment of pigmented disorders with minimal downtime and discomforts.
Keep me Posted
Keep me Posted